Water and Your Health
Clean water is crucial to healthy living in Greensboro, Winston Salem, High Point, & nearby
"Many People Who Regularly Drink Bottled Water do so Because They Believe That it's Safer and is of Better Quality Than Tap Water."[2]
Most of us drink bottled water because we think it is the healthy alternative. But if you knew what was in your bottled water you may think twice.[1]
Many people who regularly drink bottled water do so because they believe that it's safer and is of better quality than tap water.[2]
And most bottled water companies feed into the myth, adorning their labels with images of lakes and mountains, hinting that their water originates from naturals springs or glaciers.[2]
In reality, most bottled water is no different than tap water.[2]
[Bottled water is] regulated by different agencies, with different missions. The U.S. Environmental Protection Agency oversees the quality of water that comes out of your tap, while the U.S. Food and Drug Administration is responsible for ensuring the safety and truthful labeling of bottled water sold nationally. States are responsible for regulating water that is both packaged and sold within its borders (which is most of the bottled-water market), but one in five states doesn't even bother.[2]
It's important to note that the federal government does not require bottled water to be safer than tap. In fact, just the opposite is true in many cases. Tap water in most big cities must be disinfected, filtered to remove pathogens, and tested for cryptosporidium and giardia viruses. Bottled water does not have to be.[3]
Chemicals found in bottled water included endocrine disruptors. Harmful side-effects from prolonged exposure to these chemicals include; stunted growth, early puberty, premature birth, infertility, early menopause, diabetes, heart disease, and cancer.[5a]
"Not long ago, German researchers discovered endocrine disrupting chemicals (EDCs), which could adversely affect development and reproduction, in 18 popular name brand bottled water products"[4]
Fox News reported that a study by German researchers found nearly 25,000 chemicals lurking in a single bottle of water.[5a] The chemicals included endocrine disruptors such as maleates and fumarates.
Harmful side-effects from prolonged exposure include:[5a]
Stunted growth
Early puberty
Premature birth
Infertility
Early menopause
Diabetes
Heart disease
Cancer
Some bottles still contain BPA which is known to cause low sperm count, hormonal changes, enlarged prostate glands, abnormalities in the number of chromosomes in eggs, pre-cancerous changes in the breast and prostate, obesity, and insulin resistance.[5b]
And that's not all, some of the bottled water also contain other endocrine disruptors such as estrogenic, antiestrogenic, and antiandrogenic, as well as androgenic, progestagenic, and glucocorticoid-like chemicals.[5c]
Effect on Your Earth
Plastic bottles used to package water take over 1,000 years to bio-degrade and if incinerated, they produce toxic fumes.[7]
Bottles used to package water take over 1,000 years to bio-degrade and if incinerated, they produce toxic fumes. It is estimated that over 80% of all single-use water bottles used in the U.S. simply become "litter." Source: ValleyWater.org[7]
Recycling is only feasible in limited circumstances because only PET bottles can be recycled. All other bottles are discarded. Only 1 out of 5 bottles are sent to the recycle bin. Source: SunTimes.[7]
U.S. Landfills are overflowing with 2 million tons of discarded water bottles alone. Source: idswater.org[7]
It takes over 1.5 million barrels of oil to meet the demand of U.S. water bottle manufacturing. This amount of oil far exceeds the amount needed to power 100,000 cars for a year, which does not include fossil fuel and emissions cost of green house gases needed to transport the final product to market. Source: SunTimes.[7]
It is estimated that actually 3 liters of water is used to package 1 liter of bottled water. Source: ValleyWater.org[7]
Bottled Water Cost
Bottled water is also very expensive. The recommended eight glasses of water a day, at U.S. tap rates equals about $0.49 per year; that same amount of bottled water is about $1,400[6]
Solutions - Your best bet is to filter your own water[1]
So what can you do? Obviously, tap water isn't clean of contaminants either.
Your best bet is to filter your own water. Add a filtration unit to your faucet that will eliminate sediment, chlorine, metals, and chemicals. If you are going to buy your water, look and see where it is coming from, make sure it says on the label. And don't forget to choose glass over plastic.[1]
Tap Water Effects on Health
If you live in the United States, there is a nearly one-in-four chance your tap water is either unsafe to drink or has not been properly monitored for contaminants.[9]
Safe drinking water is something we Americans tend to take for granted, until a crisis like lead contamination in Flint, Michigan, makes us wonder what chemicals could be lurking in our own taps.[8]
If you live in the United States, there is a nearly a one-in-four chance your tap water is either unsafe to drink or has not been properly monitored for contaminants in accordance with federal law, according to a recent study.[9]
In 2015, nearly 77 million Americans lived in places where the water systems were in some violation of safety regulations, including the 1974 Safe Drinking Water Act, according to the report released on Tuesday from the Natural Resources Defense Council, a New York-based environmental advocacy group.[9]
Even if all systems are being regulated, there is still a risk for many chemicals and solvents to get into the water that is coming into your home.
To put the risk we all face by drinking unfiltered tap water into perspective, Read the article here.
The below graphic shows the chemicals water may be exposed to during its journey into your home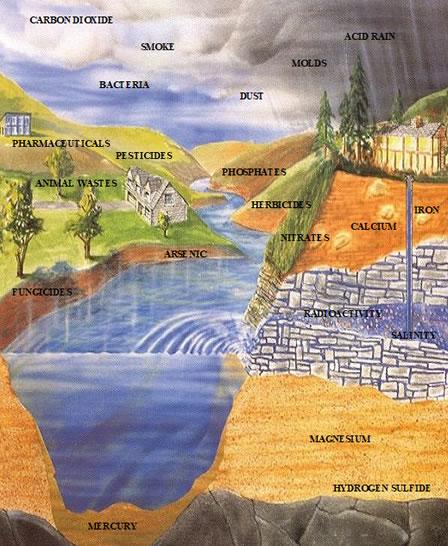 Hard Water May Also Make Your Skin Age Faster[13]
If you have hard water in your home, you'll notice that white soap scum all over your bathroom fixtures. Hard water can also clog up your plumbing and your shower head, reducing pressure.[13]
But what you may not realize is that same soap scum builds up on your skin. Instead of getting a nice lather, you're leaving behind a residue that clogs your pores the same way it clogs your pipes. Clogged pores can lead to breakouts and worsen skin conditions like acne or eczema.[13]
The natural oils your body produces are distributed through the pores of your skin. When those pores are clogged, the oil gets trapped and blemishes like pimples and zits form.[13]
Not only can soap scum from hard water clog your pores, many people find it also causes them to feel dry, itchy, and irritated. The minerals in hard water can actually strip moisture from your skin while preventing the natural oils your body produces from doing their job, which is to lubricate your skin and hold in moisture.[13]
Hard water may also be making your skin age faster. That means it could cause you to look older than you really are![13]
Dermatologist, Dr. Dennis Gross, told YouBeauty.com that many of the impurities in hard water, like iron and magnesium, can form free radicals that damage healthy skin cells. That can lead to fine lines and wrinkles. Free radical damage can even cause a breakdown of collagen, which is a structural protein that helps your skin look and feel firm and healthy.[13]
If you are experiencing the negative effects of hard water, don't worry – there's a solution.[13]
Regardless of your particular water treatment problems, we can provide the quality water treatment solutions that you need to keep you and your family safe and healthy. Our systems also provide a wide range of other
benefits
.
Get a Free
Water Test!
Contact us today and schedule your free water test in Greensboro, Winston Salem, High Point, Thomasville, Burlington, Summerfield, Reidsville, Raleigh, McLeansville, Charlotte, and nearby North Carolina!
References
Looking for a price? Get a no cost, no obligation free estimate.