Well Water System Company in Greensboro, Winston Salem, High Point
One Unit. One Solution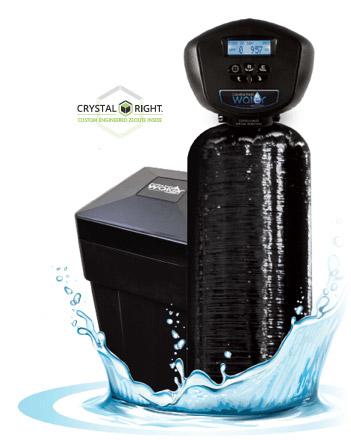 High-quality water is an essential part of everyday life. And whether your water is supplied by the city or a private well, your water problems might include:
Iron causing rust stains and build-up
Hardness creating deposits and scale
Acidic water leaving blue and green stains and corrosion damage
Foul odor and taste from various minerals and chlorine
Carolina Fresh Water conditioners combine exclusive Crystal-Right media with a self-monitoring, deep cleaning system. The revolutionary media acts as an exceptional filter removing hardness, iron, and manganese, while raising the pH of acidic water at the same time. When combined with an exclusive chlorine generator, the chlorine reduces nuisance bacteria with each regeneration, reducing slime and unpleasant tastes or odors.
The system controller records your water usage and adjusts its cycles accordingly, performing at maximum efficiency. All of these features provide the brilliant water only science could produce.
Every component, feature, and innovation of Carolina Fresh Water conditioners have been designed to bring the highest quality, most efficient water to you and your family. The units are certified compliant to NSF/ANSI 61 standards.
Get a Free
Water Test!
Schedule your free water test today and see if a well water system or any of our other products are right for your home in Thomasville, Burlington, Summerfield, Reidsville, Raleigh, McLeansville, Charlotte, and nearby North Carolina!
The Carolina Fresh Advantage
Patented technology is smarter.

Deep cleaning regeneration only when necessary
Exclusive features ensure consistent water quality
Vacation Mode for your convenience, money-savings
System notifications
Only one moving part for easy maintenance
Battery back-up
Monitored and recorded water usage history

Patented integrated chlorine generator.

Self-chlorinates
Low/No Salt alters
Monitors every cleaning

Exclusive Crystal-Right media.

Effectively filters problem minerals, such as iron, manganese, and ammonia, while correcting acidic water conditions. It also has a high tolerance to the chlorine used to keep your system clean. Crystal-Right media does all of this while efficiently softening your water.

Silca-based crystal media
Tough enough to deliver the highest quality water
Rigorous quality control process for testing the media
Unique shape designed for superior filtration

Low-maintenance brine tank

Built-in safety float
Heavyweight, corrosion-free material
Dry salt storage
Less cleaning

Quartz underbedding

Delivers high and consistent flow rates
Provides accurate and efficient cleaning process
Looking for a price? Get a no cost, no obligation free estimate.